With over 2 weeks in Livingstone, I had a lot of free time on my hands. Tracking elephants was more or less an evening adventure, and my Workaway job was stalling due to my "illegal" volunteer status (immigration didn't believe I was American). The usual recommended time for a visit to Livingstone is about 3 days, so what does one do with 2 weeks?
See Victoria Falls 4 times. Yes, 4 times in 1 week. That is probably a world record no smart tourist would want to achieve, especially a budget hungry Asian tourist. I had officially disgraced the frugality that composes the core of the Asian value system by spending over $250 on seeing the Falls, but I had to kill time and I couldn't get enough of the grandest water park in all the lands. But my stupidity can hopefully lead to some success and cost savings for you if and when you do visit.
Normal Victoria Falls Visit
Most people who visit Victoria Falls do the normal visit during the day, and the main mode of transportation is by taxi. If you are commuting from town, about 10km away, the going rate (at time of writing) of a taxi is 50 Kwachas ($7). However, you can take a shared taxi by going to taxi stand near Shoprite in town, which will only cost you 10 Kwachas ($1.50). This is important because you will find taxi negotiations will compose 5% of your Victoria Falls experience. I had to learn this the hard way while seeing my African brothers pay only 1/4th of my foreigner fare, while I had to negotiate tirelessly over $2. While this may seem petty, the point is no one wants to get screwed over, especially not while on a budget. You multiply every taxi ride by $2 and that accumulates into a few nights hostel stay.
Upon arrival, the entrance fee is 140 Kwachas ($20). You walk into the thunderous bellows of the Falls with mist trails ensuing your every step. It is April and just after rainy season, so the Falls are at its most majestic state. You can barely see the waterfall itself with water levels so strong that have washed elephants down the Falls. Whilst a nightmare for photographers inside the Falls, it's a dream come true for those looking to cool off from the hot African sun. There will be an area to rent out ponchos, and this is 110% recommended if you have camera equipment. As you venture deeper down into the bridge closer and closer to the face of the Falls, the sounds of the gushing waterfall become almost thunderous as your entire body will get trenched in water coming at you full force from a 360 degree angle. Hold onto your gear and your body because you will feel helpless in the hands of the Falls, one wrong slip or move, and something will be lost forever.
On a happier note, it is also the best time to see a rainbow emanating over the Falls due to the colossal amount of water combined with the never ending sun days. It's an amazing feeling to stand in front of mother nature's greatest glory, drenched from the non-stop flow of water while staring at a double rainbow and listening to Kygo's Sexual Healing (that just happened to be the song that was playing…).
Lunar Rainbow (Occurs once per month)
Most people who visit Victoria Falls have never heard of the lunar rainbow, most likely because it only occurs every full moon or once a month. Check the calendar to see there is going to be a full moon during your visit, and you may be treated at a colorful sight you won't find in too many places.
When there is a full moon, the light source is so great at night that it produces a rainbow at night when the moonlight hits the Falls. The best time to view a lunar rainbow is during the months from April to June, when the sky is clear and the water source is still plentiful. Unfortunately, it was a bit cloudy and rainy when I went, but I did see something I'd never seen before – a rainbow at night. I also met another photographer there who was extremely nice but may well have been the biggest playboy in Livingstone, but that is another story.
Microlight Flight over Victoria Falls (BEST WAY!)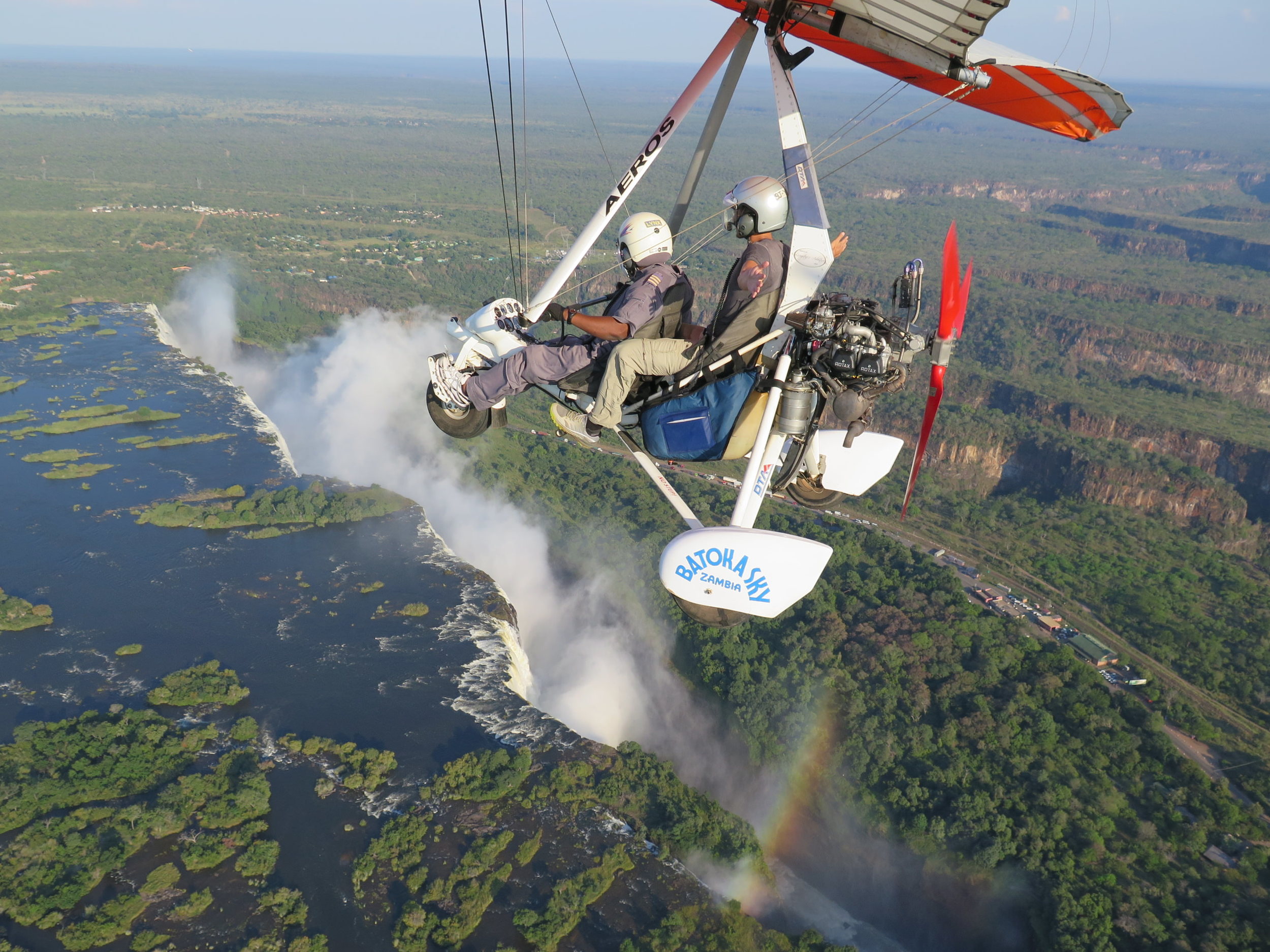 When I heard that the best way to see Victoria Falls when the water flow is at its greatest was through a Microlight Flight, I was conflicted because you pay $170 (plus $20 for pictures) for 15 minutes. My angel side told me that it was a ridiculous amount for 15 minutes, and I had already gone to Victoria Falls 3 times, and I could possibly buy nearly 200 McChickens with that amount, which would last me about a month. My devil side told me that it was a once in a lifetime opportunity and eating 200 McChickens would be disastrous for my health. Plus, it's a much better way of spending your money vs. buying a few rounds of drinks and waking up in the middle of nowhere the next day.
In the short run, I usually favor the spontaneity of my devil side but later regret it to the point of me curling up in a tiny ball, yelling at myself for what I had done, but the Microlight Flight produced no such occurrence. It was one of the highlights of my life thus far.
It is currently only being offered by Batoka Sky in Zambia, and flights are offered either in the early morning or late afternoon. I picked late afternoon in order to see the rainbows over the Falls, and I was not disappointed. They shuttle you over to their headquarters and after filling out a few forms and paying, you line up for your turn.
My pilot was an ex-Zimbabwean Army Fighter Pilot, which instantaneously made the trip exciting before it even began. You get strapped into the backseat of the Microlight, which is basically a hang glider with a motor, so you really get the most personal experience with the sights you see. The motor revs up, and lift off is executed even before you can say Up, Up, and Away! The abrupt roll of your stomach during takeoff is immediately overtaken by what is in front of your eyes – the peer beauty of Zambia and Zimbabwe right below your fingertips as you soar like an eagle. Elephants crossing the railroad tracks. Hippos bobbing in the waters. Impala skipping along the golf course. So this is what it feels like to be a bird. To fly.
Victoria Falls is coming up, and you can already hear the thunderous bellow getting closer and closer, the mist stretching wider and wider. We make an L-shaped turn straight down into the Falls with my hands outstretched like I am going down a roller coaster. If this was a roller coaster, it would be the best roller coaster of all time as you dive head first down into the Falls with rainbows peering from left to right. I notice my stomach is rolling again, but I brush it off at the sight right below my eyes.
It was one of the best 15 minutes of my life. Every dollar worth it. Who can say that they've not only visited Victoria Falls but dove head first from above with the sunset to your right, elephants to the left, and rainbows lined up across the gushing glory of the Victoria Falls? And by the way, this is the best way to see Victoria Falls.